BRP Modified Tour Press Release

www.modifiedtourinc.com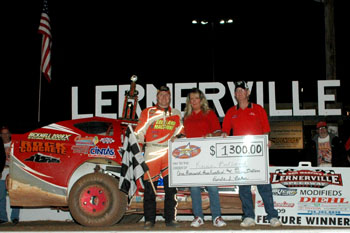 When you're hot, you're hot, and nobody is hotter than Kevin Bolland on the BRP/Hoosier Tire Modified Tour. The veteran driver from New Brighton, PA scored his third Tour win in a row and fourth overall. The skien started at Lernerville Speedway last week and continued there on Friday. Sandwiched in between were wins at Pittsburgh's Pennsylvania Motor Speedway and Tri-City Speedway.
Although Bolland would lead 24 of the 30 laps, he did not have an easy time of it. Because the Mods caught yellow fever, Jeremiah Shingledecker and company had many opportunities to overtake him. Ironically, it was a yellow flag that set up Bolland's winning move. After that, he was up to the task each time. Bolland credited his good starts to the powerful engine prepared in his father's shop. "That Bolland Machine horsepower; we work on cam shaft design and we've come up with a good combination; the thing pulls off the corners."
Lady luck smiled on Bolland once again, as he drew a front row starting spot for the 30 lap feature. However, the current DIRTcar Western Regional points leader, Jeremiah Shingledecker, would flank him. At the drop of the green, Bolland surged to the outside lane and grabbed the early lead over Shingledecker and Rex King, Sr.
Shingledecker stayed close, and snuck by Bolland on the inside in turn three on lap six. He would lead for six circuits. However, when the aution waived for the first of two cautions charged to Jeremy Paup, Bolland got another chance to flex his muscle. He drove around Shingledecker coming off turn four and grabbed the lead for good as the duo swept through the first and second turns. King Sr. remained in third, followed by Dave Murdick and Jim Weller, Jr.
Despite several more interruptions for minor skirmishes, the lead quintet continued to run in formation until lap 19. On that lap. Rex King, Jr. entered the top five. He came from eleventh on the starting grid. Behind him was Del Rougeux, Jr., the Modified Tour points leader entering this race. Rougeux came from deep in the pack, twentieth.
While still running sixth, Rougeux pitted to replace a flat right front tire during a caution on lap 26. At that time, Bolland still led Shingledecker. But, King Jr. was now in third. King, Sr. held down fourth and D. Murdick rounded out the top five.
The leaders again stayed in position through a couple more cautions. Behind them, drivers were swapping positions. Like Rougeux before him, Brad Rapp also came from deep in the pack to crack the top ten. He held the sixth spot through the final several restarts. However, he gave back a few spots on the final lap. Rapp's teammate, Kevin Hoffman, was one driver who benefitted from Rapp's misfortune, as Hoffman gained several positions in the final laps.
Bolland took the checkers, followed by the fast-closing King Jr. D. Murdick climbed to third. Shingledecker and King Sr. rounded out the top five.
Kevin Hoffman, Mark Flick, Rougeux, Rapp and Dean Pearson completed the top ten.
Heats were won by King, Jr., King, Sr., Weller and Tom Winkle.
The B Main was captured by Mike Turner.
The Red Bear Hand Cleaner "Clean Move of the Race Award" was conferred on Rex King, Jr. for his charge from eleventh to second.
The next BRP/Hoosier Tire Modified Tour event will be on Sunday, June 28, 2009, at Eriez Speedway, Hammett, PA.
For more information check our website at www.modifiedtourinc.com.
The BRP Modified Tour '09 would like to thank the following series sponsors: Bicknell Racing Products, Hoosier Race Tire, Sunoco Race Fuel, Bilstein Shocks, Keizer Racing Wheels, Ray's Racing Collectibles, Approved Toilet Rentals, Inc., Hall's Safety Equipment, Engles Trucking, Big Daddy's Speed Center, King Brothers Feed and Supply, Oyler Action Photos, McCool's Signs and Graphics, Hometown Pharmacy, Wedge Motorsports, Red Bear Hand Cleaner, Motorsports World, and Pietragallo Gordon Alfano Bosick & Raspanti, LLP.
The Modified Tour, Inc. racing series is a non-profit organization established to give the V-8 Modifieds in the Western Pennsylvania area the opportunity to compete for higher purses and for a seasonal point fund. Started in 1998 by Tim Engles, Lon and Pam Baker, and Randy Myers, the Modified Tour has had great success at bringing the local cars together at the area racetracks.
Official Order of Finish: BRP/Hoosier Race Tire Modified Tour (Round 4): Lernerville Speedway: 30 Laps: May 29, 2009
1. Kevin Bolland $1,300; 2. Rex King, Jr. $870; 3. Dave Murdick $650; 4. Jeremiah Shingledecker $550; 5. Rex King, Sr. $500; 6. Kevin Hoffman $420; 7. Mark Flick $400; 8. Del Rougeux, Jr. $380; 9. Brad Rapp $360; 10. Dean Pearson $330; 11. Tom Winkle $320; 12. Jim Weller, Jr. $310; 13. Tommy Mattocks $300; 14. Gary Smoker $290; 15. Jeff Miller $280; 16. Chris Dye $260; 17. Carl Murdick $240; 18. Steve Feder $230; 19. Gene Kirila $220; 20. Mike Turner $200; 21. Jim Rasey $200; 22. Joe Crawford $200; 23. Jeremy Paup $200; 24. Mike Miller $200; 25. Garrett Krummert $200; 26. Carl Weatherby $200.
DNQ (all $100): Mark Frankhouser, Ron Eperthener, Ryan Hall, Eric Martin, Rick Ryder, Bryan Sadler, Shawn Fleeger, Rodney Beltz.