04.07.2012 Filed in:
Sharon Speedway
| Press
Media Contact: Mike Leone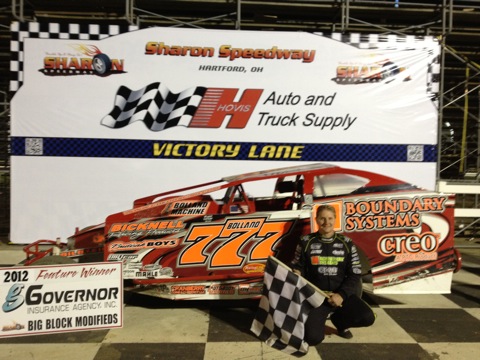 (Hartford, OH)…Sharon Speedway officially began the 83rd anniversary season of auto racing at the famed facility on a sunny and cool Saturday evening. A great crowd watched 117 cars battle it out for the opening night accolades with the following drivers in the Hovis Auto & Truck Supply victory lane: Kevin Bolland-Governor Insurance Agency DIRTcar Big-Block Modifieds, George Kowatic-Barris Supply FASTRAK Late Models, Brent Rhebergen-Summit Racing Equipment E-Mods, Paul Davis-Gibson Insurance Agency Stock Cars, Brad Blackshear-HTMA/Precise Racing Equipment Econo Mods, and Jim Haefke, Jr.-Deforest Used Parts Mini Stocks.

Kevin Bolland led all 20 laps of the Governor Insurance Agency DIRTcar Big-Block Modified feature, but had to withstand a late charge by 10th starting Jeremiah Shingledecker for his 19th career win.

"The track was great," stated the 52-year-old New Brighton, Pa. veteran. "I looked at it earlier and thought it was going to chunk out. Whatever was in it was binding and it worked out. Last night we were just bolting the heads on this thing. You'd think we would have had all winter, but winter never came! We thought we'd get snow and we never did so we figured we better get this back together. The car worked great. This one goes out to everyone that's with us and helped us get here."

Bolland started on the pole as Dave Murdick moved into second on the opening lap past Rex King, Jr. Murdick and the youngest King battled hard for second as King pulled even on lap seven, but Murdick maintained the position. Shingledecker became a factor when he cracked the top five taking the spot from Chris Haines just before halfway. King once again pulled alongside of Murdick on lap 10, but to no avail. The first and only caution of the event slowed competition with 13 laps scored when Dean Pearson broke while running fourth.

Shingledecker lined up fourth on the restart and made a great move to get by King for third and nearly took second from Murdick on lap 14. Shingledecker and Murdick put on a great side-by-side battle between laps 16-18. Finally on lap 18, Shingledecker made the bottom work in turns one and two for runner-up.

Shingledecker went after Bolland and was right there at the finish, but just couldn't make the move as Bolland held on by 0.665 seconds for the $1,100 victory in the Bol-Tech Motorsports-owned, Boundary Systems|CREO/Bolland Machine/Cintas/Budisak Boys/Cranberry Coin & Currency-sponsored #777. Bolland now moves into sole possession of sixth place on the all-time win list just three wins behind the retired John Braymer.

Murdick held off King, Jr. for third. Haines was fifth. Completing the top 10 were Jim Weller, Jr., 13th starting Rex King, Mark Frankhouser, Carl Murdick, and Steve Feder. Pearson and Murdick captured the heat race wins.

Governor Insurance Agency DIRTcar Big-Block Modifieds (20 laps): 1. KEVIN BOLLAND (777) 2. Jeremiah Shingledecker (37MD) 3. Dave Murdick (61) 4. Rex King, Jr. (165) 5. Chris Haines (35H) 6. Jim Weller, Jr. (31) 7. Rex King (65) 8. Mark Frankhouser (03) 9. Carl Murdick (6) 10. Steve Feder (45) 11. Bob Warren (96B) 12. Rob Kristyak (00) 13. Dean Pearson (8J) 14. Justin Rasey (21).