07.10.2012 Filed in:
Press
| Sharon Speedway
By Mike Leone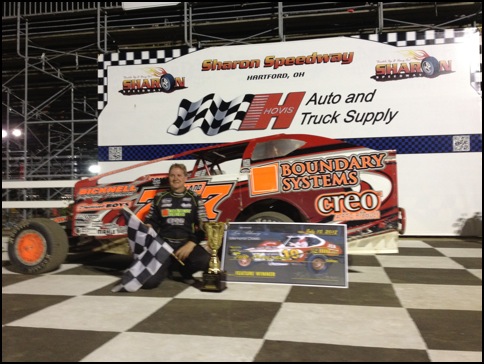 (Hartford, OH)…A huge crowd turned out on a beautiful Tuesday evening at Sharon Speedway to remember the legacy of the great Lou Blaney, who amassed more than 600 victories in his five-decade career of racing. The fourth annual "Lou Blaney Memorial" Alzheimer's Association Benefit presented by Ollie's Bargain Outlet saw Brad Sweet (410 Sprint Cars) and Kevin Bolland (DIRTcar Big-Block Modifieds) win their first features in this prestigious event. Lou's wife Kate gathered over $10,000 in contingencies for the racers.

After splitting the first four events at two a piece, Kevin Bolland and Rex King have been shutout of victory lane the last four races. On Tuesday night, it was King and Bolland battling for the 25-lap win with Bolland getting by in the closing stages of the Governor Insurance Agency DIRTcar Big-Block Modified event. Bolland's third win of the season at Sharon was his biggest anywhere on the 2012 circuit, worth $2,000.

"I raced a lot of years with Lou (Blaney)," explained the 52-year-old New Brighton, Pa. veteran. "He was the guy I always looked at. I'd always sneak around his cars to see how to go fast. I finally got to a point in my career where I could compete with him. We miss Lou- he was a great racer!"

King bolted from his third starting spot into the lead on the opening circuit with Tom Mattocks and Kevin Hoffman in pursuit. Hoffman and ninth starting Chad Brachmann dropped Mattocks back to fourth on lap two. Kyle Fink looked strong making a three-wide move on lap four to steal third, but Fink would spin one lap later collecting Brad Rapp, who was making his 2012 Sharon debut.

Bolland entered the mix from his eighth starting position driving under and by Brachmann for third on lap five. By lap seven, the top five of King, Kevin Hoffman, Bolland, Brachmann, and Shingledecker pulled away from the field. Fink slowed and brought out another caution with eight laps scored.

When green replaced yellow, Bolland's forward progress continued as he raced by Hoffman for second. A long green flag run took place from laps 9-23, which allowed King to distance himself from the field as the battle raged for second. Brachmann began to put the heat on Hoffman as he closed in on lap 17 and tried every move possible to get by on the 19th circuit.

King had his hands full with lapped traffic on lap 22. Bolland was right on King as the battle heated up for second. The two raced side-by-side on lap 22 racing off turn two. King held on until he got bottled up in lapped traffic on lap 23 as Bolland used the momentum on the outside to power into the lead. King really got blocked in on lap 24 due to his son "Cooter" slowing on the backstretch and getting caught behind traffic; this allowed Hoffman and Brachmann to blow by, but "Cooter" was unable to get off the track necessitating the caution with 23 laps completed.

Bolland survived a scary restart for his 21st career Sharon win by a margin of 1.34 seconds in the Bol-Tech Motorsports-owned, Boundary Systems | CREO/Bolland Machine/Cintas/BudisakBoys/TurboStart/MyWay Mobile Storage/Bickenell Racing Products/Bilstein/Car Cleen/Matheson Valley Gas/Cranberry Coin & Currency-sponsored #777. "It seems like ever since I've left the winners' circle I've been coming from 12th," continued Bolland. "We're back here now. The track was great tonight. I got bumped on that last restart and nearly spun, and the first one they said I started too early, but I recovered and took the lead again. The third time was a charm and I took it to the flag."

King barley held off Hoffman for runner-up. Brachmann was fourth over Jim Weller. Eric Gabany was sixth ahead of Rapp. Jimmy Weller III was eighth after starting 24th to earn the Hard Charger Award. Chris Haines was ninth as Tom Glenn rounded out the top 10. Heat winners were Shingledecker, Pearson, and Chrysler. The B main was cancelled after just six of the 10 original starters reported to the speedway.


Governor Insurance Agency DIRTcar Big-Block Modifieds (20 laps, $2,000 to-win): 1. KEVIN BOLLAND (777) 2. Rex King (65) 3. Kevin Hoffman (17H) 4. Chad Brachmann (3) 5. Jim Weller, Jr. (31) 6. Eric Gabany (3E) 7. Brad Rapp (11R) 8. Jimmy Weller III (31W) 9. Chris Haines (35H) 10. Tom Glenn (83T) 11. Carl Murdick (6) 12. Tom Mattocks (69) 13. Dillion Barr (15B) 14. Don Brown (71B) 15. Bob Warren (96B) 16. Jeremiah Shingledecker (37MD) 17. Rob Curtis (McElhaney 6 7/8) 18. Rex King, Jr. (165) 19. Skip Moore (17M) 20. Justin Rasey (21) 21. Randy Chrysler (21K) 22. Dean Pearson (8J) 23. Steve Barr (25B) 24. Brian Fink DNQ: Rob Kristyak (00), Jim Rasey (32), Rick Ryder (Snider 189), Del Rougeux, Jr. (20D).

Sharon Speedway is owned by the Blaney, Weller, and Kirila Families and is a 3/8-mile dirt track located on Custer-Orangeville Road in Hartford, Ohio near the intersection of Routes 7 & 305. For more information, check out the website at www.sharonspeedway.com or call 330-772-5481. Become a fan of Sharon Speedway on Facebook at www.facebook.com/sharonspeedway and follow us on Twitter at www.twitter.com/sharonspdwy.
04.07.2012 Filed in:
Sharon Speedway
| Press
Media Contact: Mike Leone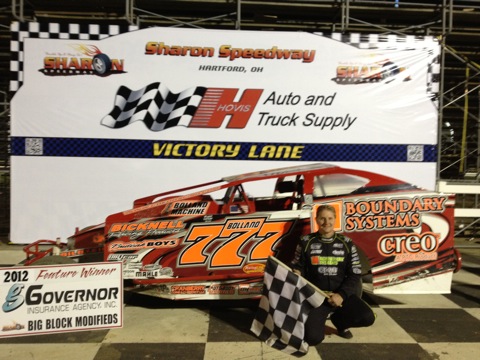 (Hartford, OH)…Sharon Speedway officially began the 83rd anniversary season of auto racing at the famed facility on a sunny and cool Saturday evening. A great crowd watched 117 cars battle it out for the opening night accolades with the following drivers in the Hovis Auto & Truck Supply victory lane: Kevin Bolland-Governor Insurance Agency DIRTcar Big-Block Modifieds, George Kowatic-Barris Supply FASTRAK Late Models, Brent Rhebergen-Summit Racing Equipment E-Mods, Paul Davis-Gibson Insurance Agency Stock Cars, Brad Blackshear-HTMA/Precise Racing Equipment Econo Mods, and Jim Haefke, Jr.-Deforest Used Parts Mini Stocks.

Kevin Bolland led all 20 laps of the Governor Insurance Agency DIRTcar Big-Block Modified feature, but had to withstand a late charge by 10th starting Jeremiah Shingledecker for his 19th career win.

"The track was great," stated the 52-year-old New Brighton, Pa. veteran. "I looked at it earlier and thought it was going to chunk out. Whatever was in it was binding and it worked out. Last night we were just bolting the heads on this thing. You'd think we would have had all winter, but winter never came! We thought we'd get snow and we never did so we figured we better get this back together. The car worked great. This one goes out to everyone that's with us and helped us get here."

Bolland started on the pole as Dave Murdick moved into second on the opening lap past Rex King, Jr. Murdick and the youngest King battled hard for second as King pulled even on lap seven, but Murdick maintained the position. Shingledecker became a factor when he cracked the top five taking the spot from Chris Haines just before halfway. King once again pulled alongside of Murdick on lap 10, but to no avail. The first and only caution of the event slowed competition with 13 laps scored when Dean Pearson broke while running fourth.

Shingledecker lined up fourth on the restart and made a great move to get by King for third and nearly took second from Murdick on lap 14. Shingledecker and Murdick put on a great side-by-side battle between laps 16-18. Finally on lap 18, Shingledecker made the bottom work in turns one and two for runner-up.

Shingledecker went after Bolland and was right there at the finish, but just couldn't make the move as Bolland held on by 0.665 seconds for the $1,100 victory in the Bol-Tech Motorsports-owned, Boundary Systems|CREO/Bolland Machine/Cintas/Budisak Boys/Cranberry Coin & Currency-sponsored #777. Bolland now moves into sole possession of sixth place on the all-time win list just three wins behind the retired John Braymer.

Murdick held off King, Jr. for third. Haines was fifth. Completing the top 10 were Jim Weller, Jr., 13th starting Rex King, Mark Frankhouser, Carl Murdick, and Steve Feder. Pearson and Murdick captured the heat race wins.

Governor Insurance Agency DIRTcar Big-Block Modifieds (20 laps): 1. KEVIN BOLLAND (777) 2. Jeremiah Shingledecker (37MD) 3. Dave Murdick (61) 4. Rex King, Jr. (165) 5. Chris Haines (35H) 6. Jim Weller, Jr. (31) 7. Rex King (65) 8. Mark Frankhouser (03) 9. Carl Murdick (6) 10. Steve Feder (45) 11. Bob Warren (96B) 12. Rob Kristyak (00) 13. Dean Pearson (8J) 14. Justin Rasey (21).