Media Contact: Lou Long (412-760-9755)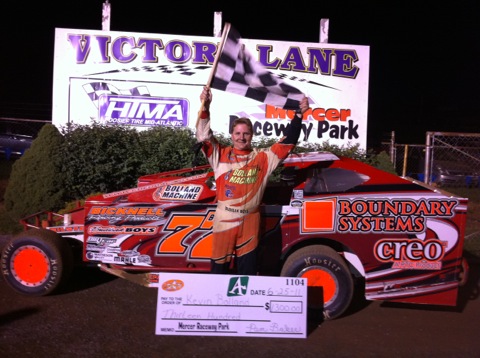 Victory Lane at Mercer Raceway Park (Photo: Deric Bolland)


Mercer, PA (June 25, 2011): Kevin Bolland made a daring last lap pass of leader Brian Swartzlander and went on to win the thrilling BRP/Hoosier Tire Modified Tour race presented by All Metals Recycling of Rochester, PA.
"The traffic is always tough at Mercer, you just have to wait your turn," Bolland said. On several occasions, the traffic thwarted Bolland's ability to pass race leader Brian Swartzlander. However, in the final analysis, a lapped car figured prominently into his winning pass.
When the field was circulating under the final caution, Bolland said to himself, "I have 11 more laps, let's get this project done." At that moment, he was sitting third behind Swartzlander and Frank Guidace. Shortly after the race resumed, Bolland regained second position and he was rapidly closing on Swartzlander.
"I had to wait for the lap traffic to play in because Brian had the bottom end tied up for several laps." Bolland explained that he kept trying the high side in turns one and two, "but every time I got a run on him, it seemed like a lapped car fell in front of me and I couldn't capitalize again." He kept working at it, though, and eventually he used the traffic to his advantage.
Although Swartzlander led from the start, he could not shake loose from Bolland. Bolland kept switching lines as the duo diced for the lead. When they approached heavy lapped traffic near the midpoint of the race, Bolland made his first bid for the lead. He dropped to the inside lane coming off turn two and Swartzlander remained in the middle groove. They swept past a pair of lapped cars in an astounding four-wide formation on the backstretch. Swartzlander entered turn three with the lead, as Bolland had to burp the throttle to set the car for the corner.
Bolland continued to apply the pressure until the race was slowed for its second caution. On the restart, track favorite Frank Guidace powered into second with his potent 358 Modified, and the fans were sensing that an upset could be in the making. No Approved Toilet Rental 358 Modified had ever beaten the Big Blocks at Mercer and Guidace wanted to be the first. He closed in on Swartzlander on several occasions, but he could never pull alongside the leader.
Meanwhile, Bolland regrouped and began to work on Guidace for second. Bolland went to the outside and took the position away as they raced through turns one and two on lap 21. Bolland once again took up the chase for the lead.
With the laps winding down, the leaders again found themselves in heavy lapped traffic. That gave Bolland the opportunity to challenge for the win. As the leaders came charging off turn four to take the white flag, Bolland squeezed between Swartzlander and a lapped car. At the scoring loop, Bolland had the lead by a narrow margin. The pair cleared the lapped car and they raced hard into turn one. There was contact. Swartzlander slid high, but kept moving despite suffering some damage to his car. Bolland managed to keep his car straight and pulled away for the win.
Swartzlander took the checkers in second. Eric Gabany, driving another Mercer 358, made a strong move on the outside in the final laps and climbed up to third. Guidace held on for fourth, followed by Dave Murdick.
Jeremiah Shingledecker finished sixth. Rex King, Sr. crossed in seventh, snapping a two-year streak of top five finishes with the BRP/Hoosier Tire Modified Tour. His son, Rex King, Jr., grabbed eighth. Brad Rapp climbed all of the way to ninth after starting in row eleven. Kevin Hoffman completed the top ten.
BRP/Hoosier Tire Modified Tour: 1. Kevin Bolland (777); 2. Brian Swartzlander (83); 3. Eric Gabany (3E); 4. Frank Guidace (1G); 5. Dave Murdick (61); 6. Jeremiah Shingledecker (37MD); 7. Rex King, Sr. (65); 8. Rex King, Jr. (165); 9. Brad Rapp (11R); 10. Kevin Hoffman (17H); 11. Jimmy Holden (28H); 12. Tommy Kristyak (26Z); 13. John Buchanan (44B); 14. Mark Frankhouser (03); 15. Mike Turner (96); 16. Tommy Mattocks (69); 17. Shannon Whaley (44W); 18. Carl Murdick (6); 19. Shawn Fleeger (88); 20. Scott Strock (15); 21. Don Brown (71B); 22. Howard Duff (812); 23. Kyle Fink (66F); 24. Skip Moore (17M); 25. Chris Haines (35H); 26. Rod Jones (820). DNQ: Kevin Green, Rich Whitney, Brian Weaver, Dave Reges, Donny Minor. Heat wins: Swartzlander, Gabany, Bolland. B Main win: Rapp.