Bolland Outduels Murdick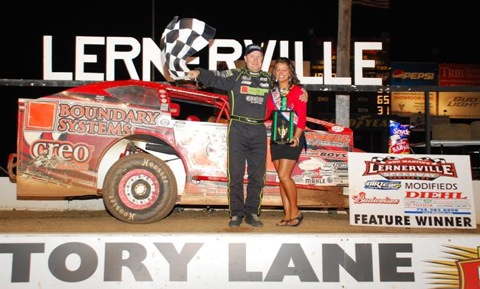 Kevin Bolland made the Diehl Auto Group DIRTcar Northeast Big Block Modified feature into a high speed chess match Friday Night, as he pursued Dave Murdick who led the first 23 laps of the 25-lapper. Murdick launched to a quick start and took the lead just past the flagstand after completing the first lap and built a comfortable lead over Jim Weller Jr. and Defending Track Champion Jeremiah Shingledecker.

A myriad of cautions midrace made the Big Blocks look more like the Enduro. The final caution waved on lap 18 and by that time Bolland had made his way to second from 11th on the starting grid. He took a brief lead around the top of turns one & two, only to see Murdick thunder past him from the bottom of turn two and down the back straightaway. This scenario repeated itself repeatedly until lap 23 when Bolland dropped down off the top of turn two and took Murdick's preferred line away to hold the lead down the back stretch and into turn three. Once at the point, Bolland's 54th career win was academic.

Shingledecker also got past Murdick in the final two laps to finish second. Behind Murdick in third, veterans Rex King Sr. and Jim Weller Jr. rounded out the Diehl Top Five. Brian Swartzlander struggled all night in both the Detman #111 Late Model and his on #83 Big Block, but salvaged a sixth place finish. Mark Frankhouser finished seventh ahead of Steve Feder, Carl Murdick and Phil Evans Jr. Kevin Bolland also took the checkers in his heat race, as did Small Block ace Frank Guidace.

Contact: Lernerville Speedway
Eric J. Westendorf, Public Relations Director
(724) 664-1075 / ewestendorf@dirtcar.com